Pictographics Digital Color Technology
---
OneClick™ Color Correction-Now Available for Licensing
Pictographics OneClick™ "Point and Click" Color Correction automatically corrects the white balance, exposure, and saturation with one click. And, with just one click you can create stunning Black and White or Sepia Tone photos. The OneClick color correction is available for integration into computer operating systems, photo editors, online photo sites, social network sites, or any other digital photo software or hardware application. -More OneClick Information-
Color Correction is Difficult without Pictographics Color Correction
The most difficult and time consuming digital photo editing task is correcting the color. It is difficult because the tools in all photo editors are difficult to understand and use. Not so with OneClick. With Pictographics' OneClick you can fix the color with a single click. The color of this picture was dramatically improved with a single click. Read more about this remarkable color correction.
| | | |
| --- | --- | --- |
| | | |
| Original Photo | OneClick Color Correction | OneClick Black and White |
It took One Click on David's (the guy on the right) white shirt to fix this memory of Andy's first deer hunting adventure with his dad, Dave, and his grandfather, Ron. Here are are the simple CorrectPhoto steps we used to fix the color.
Click Here for more information on Pictographics OneClick Color Correction Technology
---
Pictographics Licenses OneClick, Portrait, EditLab, and inCamera
Color Correction Technology

More information on Pictographics Color Technology
Interested in Licensing Pictographics Color Technology?
---
PictoColor
®
Corporation Software Developed with

Pictographics
®
Color Management Technology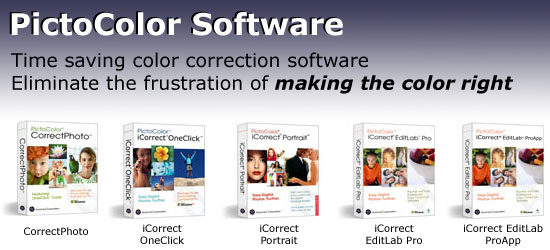 http://www.pictocolor.com
, http://www.correctphoto.com